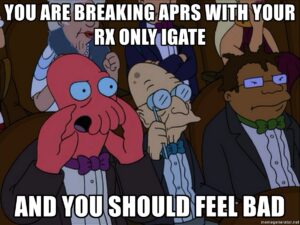 Every now and then I keep on reading on social networks or forums how people set RX only igates up. RX only igates are just bad, really bad. I could just leave you with the following statement "APRS is a bidirectional network and RX only igates are not bidirectionnal. Period" But let me expose how they are breaking the network.
For most of the people setting up RX only igates the initial premise is to "see their track" on aprs.fi. They completely miss the point that APRS is a tactical two way network and not just icons on a map. APRS has a SMS like messaging capability, which relies on the internet and the APRS-IS system to convey messages between stations that are out of range of the same digipeater. This is this messaging capability which is being broken by RX only iGates.
Consider following scenario where we have two igates in the same area.
RX only igates N0RX which has a high speed connection.
Full TX/RX igate N0FULL which has a slower sonnection than N0RX
N4ABC, a mobile station which can be heard by both igates
Thanks to its good internet connection N0RX is able to push packets faster to the APRS-IS servers. N4ABC packets will be gated through N0RX and N0FULL but since the packets coming through N0FULL will be dropped and marked as duplicates.
Now we have N5DEF which is 1000km away and wants to message N4ABC. N5DEF sends a message from his radio, this will be gated at some point. Now the APRS-IS server have to decide which igate to use to bring back the message back to RF so it can reach its recipient, in our case N4ABC. Since N0RX is the igate "assigned" to N4ABC this is the igate that will be used. Maybe you start now to understand the issue, since N0RX is not TX capable the message aimed at N4ABC will never make it through.
In the example above the RX only igate has a faster internet connection than N0FULL, but if both igates have similar internet connection speed it might also break the network but more randomly. We all want a 100% working network.
The RX only igate use case has never been foreseen, and there is no way for APRS-IS to detect that and igate is not TX capable.  Do not be a jerk, do not run a RX only igate.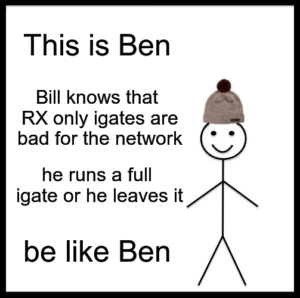 August 15th 2019 Update: in a blog post Hessu, author of aprs.fi and aprsc APRS-IS software explains that igates might be benefitial to the network, if and only if there is a TX igate nearby. This makes sense, yet does not reflect my experience. I might post about it in the near future. Also see Hessu's comment below.